Royal Rangers

Calvary Assembly of God



Acknowledgment and Copyright Notice:
The Royal Rangers® name, clubs names, logos, emblems, and artwork are registered trademarks or copyright protected properties. © 2007 by The General Council of the Assemblies of God, 1445 N. Boonville Ave., Springfield, Missouri 65802. Used by permission. All rights reserved.
Evangelize, Equip, and Empower the next generation of Christlike men and lifelong servant leaders.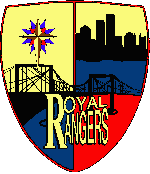 The Royal Rangers Code


A Royal Ranger is:


ALERT
Mentally, physically, and spiritually alert.


CLEAN
Clean in body, mind and speech.


HONEST
Does not lie, cheat, or steal.


COURAGEOUS
Brave in spite of danger, criticism, or threats.


LOYAL
Faithful to his church, family, outpost, and friends.


COURTEOUS
Polite, kind, and thoughtful.


OBEDIENT
Obeys his parents, leaders, and those in authority.


SPIRITUAL
Prays, reads the Bible, and witnesses.